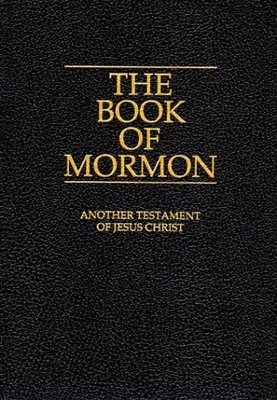 "I told the brethren that the Book of Mormon was the most correct of any book on earth, and the keystone of our religion, and a man would get nearer to God by abiding by its precepts, than by any other book."
Joseph Smith Jr.


So, yes, in my
previous post
exploring the editions of the BoM, I ragged a bit on the versification of the book. Being a literary scholar (can my undergradness claim such a title?!) I think the narrative was sacrificed for convenience's sake. But, I understand it and when people
request a free copy of the BoM
(if you don't have a copy you should get one!), they get the versified version. That's great! It's not the literary structure people are examining, it's the content and no matter the edition, the content is GREAT!
However, there are some current editions which I think are awesome!
The Apocryphile Press
publishes a version of the BoM which resembles the first publicati
on in the 1830's, before the versification.
My favorite version which I've found is entitled, "
The Book of Mormon: A Reader's Edition
" and, simply put... It. Rocks. This version is not versified and the editor of this book comments, "I have added quotation marks and paragraphing, inserted parentheses and semicolons...poetic passages...have been set into poetic form with clear line breaks and stanzas...this type of editing not only gives emphasis to the narrative, it also highilights the literary qualities and complex internal structure of the text" ("
This Reader's Edition
").
It edition allows the scholarly, or literary to manifest itself in this spiritual document. This, in my opinion, enhances the quality of the reading experience and allows for greater insight and understanding. Is it worth the $15? Yes, it totally is!